Liposuction
With liposuction it is possible to remove excess unwanted fat deposits from previously defined areas of the body. Despite widespread prejudices, liposuction is not a substitute for dieting or exercise and does not serve to reduce an existing excess weight. However, many people are familiar with the phenomenon: despite exercise and a healthy diet, some stubborn fat deposits simply do not want to disappear. In such cases, liposuction can provide relief.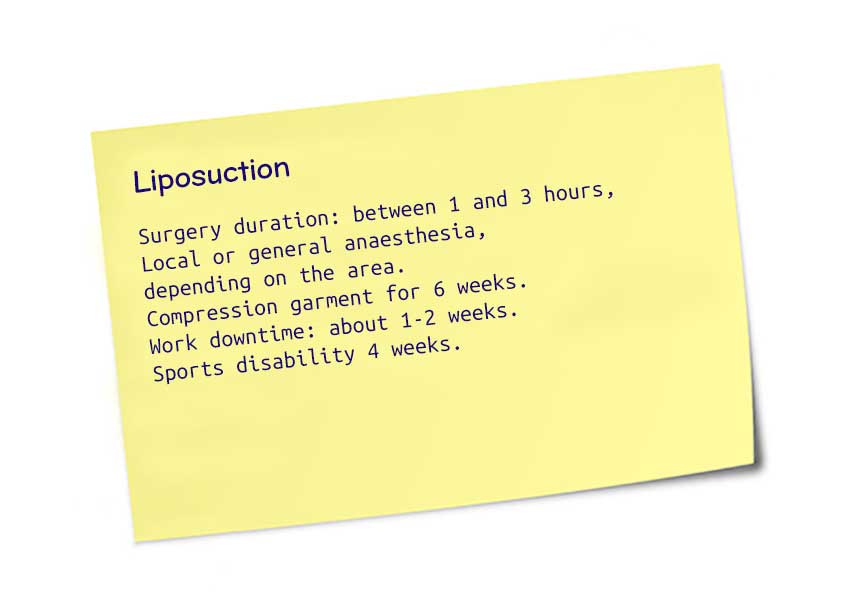 How does liposuction work?
I perform liposuction manually in my plastic surgery practice in Zurich. This allows for a particularly individual and gentle treatment. I take care during the treatment not to suction out too much fat, as this can lead to a very unnatural effect. Liposuction is performed under local or general anesthesia. The affected area is injected with a special solution that allows the fat to be removed gently. After a short reaction time, the fat can be suctioned out through a cannula.
What to consider after liposuction?
Immediately after liposuction, the patient receives compression garments. It is imperative that the compression garment is worn permanently for four weeks to allow the tissue to reattach properly. In the liposuctioned areas, there is sometimes a feeling of numbness after liposuction, but this soon subsides. Likewise, any bruising quickly disappears. The recovery period after the procedure depends on the extent of the liposuction: For smaller procedures, a rest period of two days is sufficient; for larger ones, time off of up to two weeks should be planned.
Liposuction in Zurich – with your expert for plastic surgery
Are you interested in liposuction in Zurich? Dr. Britta von Stumberg is an experienced specialist and will be happy to explain the method as well as the possibilities and limitations of this procedure to you in a non-binding consultation. Simply contact us and make an appointment for a consultation on liposuction in the plastic surgery practice in Zurich.