Breast reduction
Breast reduction is one of the classic procedures in aesthetic breast surgery. No wonder, because numerous women literally have to "put up with a lot". Since too large breasts can lead to postural problems and tension pain in the long run, breast reduction is not only the answer to a purely aesthetic problem. Breast reduction with simultaneous "re-filling of the décolleté" brings many women relief and a good feeling about life.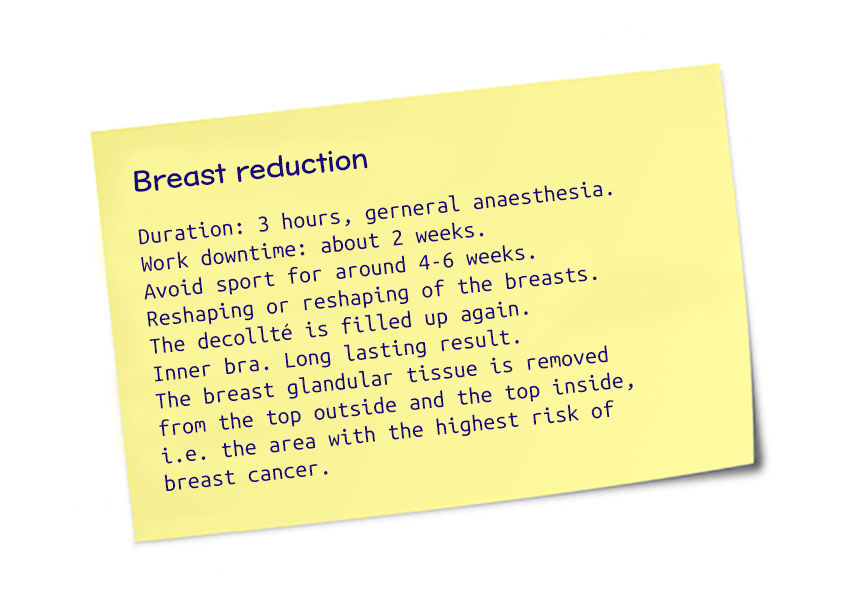 How does breast reduction work?
In breast reduction, I use a surgical technique that is very different from the usual techniques. Thus, I focus my attention very specifically on the location of the removed tissue. This has a very serious background, which unfortunately not every plastic surgeon pays attention to: Breast cancer affects about one in eight women in Europe. When the cancer occurs, in about 75 percent of the cases it is found at the top outside or at the top inside of the breast. Therefore, during breast reduction, I specifically remove this "more endangered" breast tissue and not the "healthiest" tissue at the bottom or in the middle of the breast.
I perform breast reduction in the hospital and under general anesthesia. I fix the remaining breast tissue to the chest wall with sutures, forming an inner bra. With this technique, the "décolleté can be excellently refilled". The skin is appropriately tightened and well sutured. Existing inequalities can be largely evened out, although perfect symmetry does not occur in nature. Drains ensure that the wound water can drain off after the breast reduction.
What to consider after breast reduction?
After the breast reduction, a firm elastic bandage is applied, which is exchanged for a tight-fitting bra (sports bra) after two days. After breast reduction, the breast is "over tightened" as in breast lift, because the tissue is still yielding and the final shape can be seen only after about six weeks. In some cases there is bruising or numbness, but this usually disappears completely.
The sports bra should be worn for about six weeks after breast reduction. Smoking, sports, sauna visits and strong sunlight should be avoided during this time, otherwise healing problems may occur. The ability to breastfeed is not changed by this surgical technique. After two to three weeks, patients are fully fit for work again. The costs are covered by health insurance, if at all, in cases where at least 500 g of tissue per breast are removed.
Breast reduction in Zurich – with your expert for plastic surgery
Are you interested in breast reduction in Zurich? Dr. Britta von Stumberg is an experienced specialist and will be happy to explain her breast reduction method and possible alternatives to you in a non-binding consultation. Simply contact us and make an appointment for a consultation on breast reduction in the plastic surgery practice in Zurich.