Breast lift
Breast lift is a good method to restore shape to a sagging breast that has lost its volume or is overstretched. Many women are dissatisfied with their breasts. Especially after pregnancies, the loss of breast tissue can cause the breast to sag and lack volume in the décolleté. In this case, the plastic surgeon can help with a breast lift – often with clearly positive consequences for the quality of life. By the way: The ability to breastfeed is not affected by my breast lift technique.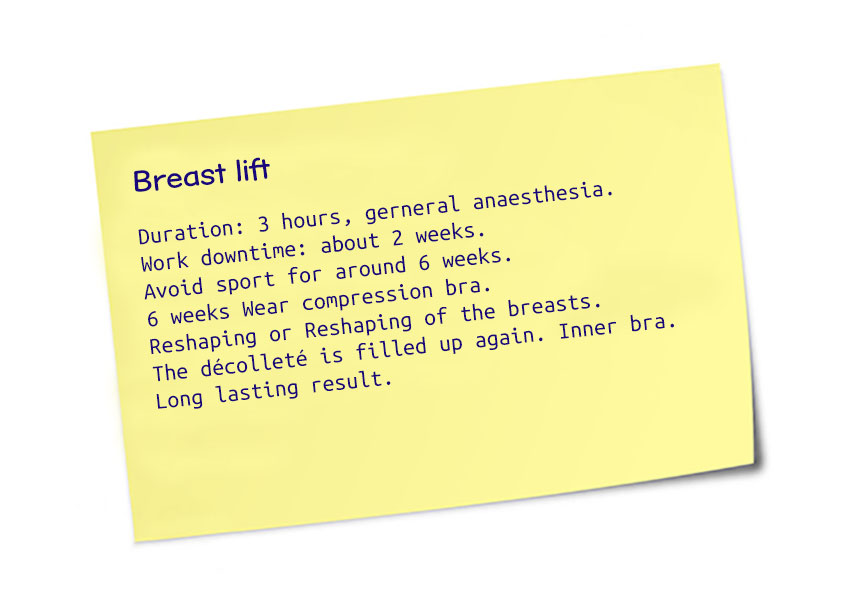 How does a breast lift work?
A breast lift takes place under general anesthesia in the hospital. The surgeon completely reshapes and fixes the breast tissue and in the course of the operation forms a so-called inner bra, which can keep the breast in the desired shape for a long time. During the breast lift, the skin is also tightened and well sutured. Existing inequalities of the breast can be largely compensated. However, perfect symmetry does not exist in nature either. Drains ensure the drainage of wound water after the procedure. Complications during the operation are rare, but can never be excluded.
What should be considered after a breast lift?
After the breast lift, the breast is initially "over tightened". Since the tissue is still yielding, the final shape can only be seen after about six weeks. Sometimes there is bruising or numbness, but this usually disappears completely. Following the breast lift, a tight elastic bandage is applied, which is exchanged for a tight-fitting bra (sports bra) after two days. This should be worn for about six weeks after the procedure. Also for six weeks after the breast lift, the patient should avoid smoking, sports, sauna visits and strong sunlight, otherwise healing problems may occur. After two to three weeks, patients are usually fully fit for work again.
Breast lift in Zurich – with your expert for plastic surgery
Are you interested in a breast lift in Zurich? Dr. Britta von Stumberg is an experienced specialist and will be happy to explain the breast lift method and possible alternatives to you in a non-binding consultation. Simply contact us and make an appointment for a consultation on the topic of breast lift in the plastic surgery practice in Zurich.