Earlobe correction
Earlobe correction is an option when there has been an undesirable change in the earlobes due to predisposition or wearing ear jewelry. In particular, the widening or lengthening of the jewelry-bearing ear holes can make an unsightly impression. In this case, surgical earlobe correction can restore the shape of the earlobe. Earlobes that have become thin over time, so that the ear jewelry does not show well, can be improved very effectively. Here, a filler can be used to return the missing volume: A real "wow effect" with a long-lasting effect.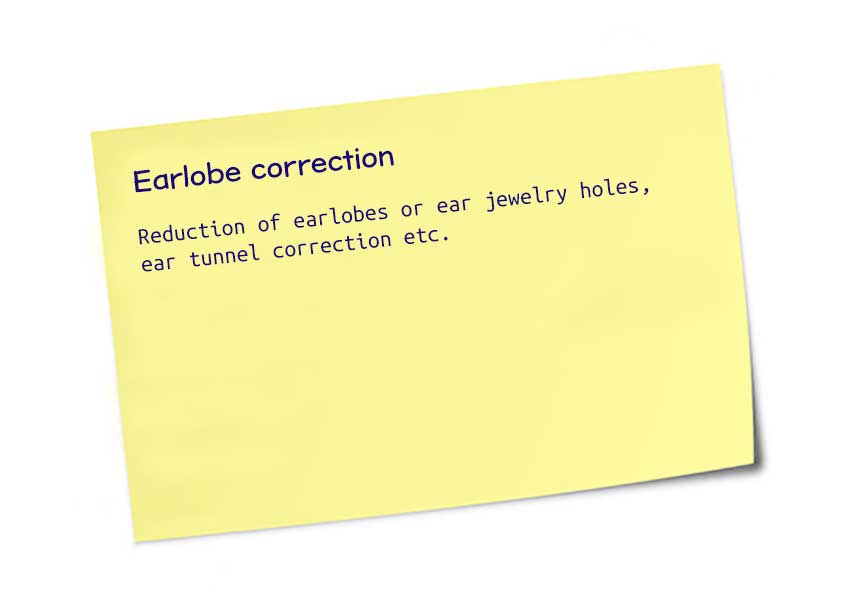 How does earlobe correction work?
Earlobe correction is a minor outpatient procedure that involves reconstruction of the earlobe as needed. When reconstructing the ear hole for an earring, only the hole that is too large needs to be partially resealed. However, enlarged ear holes, for example after wearing so-called tunnels, can just as well be closed again and enlarged earlobes can be reduced again. For an experienced surgeon, these earlobe correction procedures are not very complicated and are very low-risk.
What should be considered after earlobe correction?
After an earlobe correction, the treated area is covered with a small, inconspicuous plaster. Patients should take care not to expose the ear to stress or shocks in the first days after the procedure. It is not necessary to pierce a new ear hole after the earlobe correction, as a small ear stud brought along is inserted immediately in the surgery, which at the same time covers the plaster, so that one is immediately "presentable" again.
Earlobe correction in Zurich – with your expert for plastic surgery
Are you interested in earlobe correction in Zurich? Dr. Britta von Stumberg is an experienced specialist and will be happy to inform you about the possibilities of earlobe correction in a non-binding consultation. Simply contact us and make an appointment for a consultation on the topic of earlobe correction in the plastic surgery practice in Zurich.